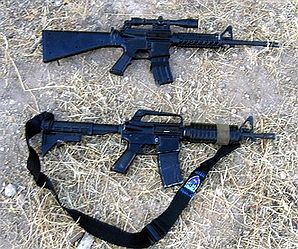 Toy M-16 top, Real M-16 bottom
Commentary;
This seems like another blantantly obvious Pallywood production, not even worthy of back-page coverage other than for comic relief. Once again, we find the Arabs, the Islamics rendering kids expendable for bogus international liberal agendized MSM brownie points. And MSM makes little mention of how kids are made into kid terrorists in camps such as this one.
What in the heck are kid terrorists doing playing in a war-zone, with weapons — even toy weapons of war, except by Pallywood design? And why is Israeli MSM so willingly complicit?
When will Israelis stop caring about the welfare of an enemy, hell-bent on destruction and eradication of the Jews, and start caring about the welfare of their Jewish brethren and the nation and act accordingly?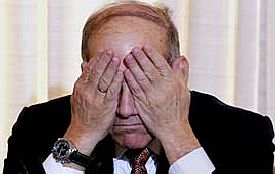 When will the "for shame" prime minister hang his head for the shame of his deliberate, pre-meditated dereliction of duty towards the Jews? And importantly, when will Jews send this regime packing and opt for a Jewish prime minister and real Jewish leadership and all it implies? MB
IDF Kills Palestinian Holding Toy Gun
Full Text;
IDF troops shot dead a 15-year-old Palestinian youth during operations in Hebron on Tuesday. The troops said that the boy appeared to be holding an M-16 rifle. After the shooting, the troops found that that the youth had been holding a plastic replica of an M-16.

The IDF initiated an investigation of the incident, which occurred in the Luza neighborhood, south Hebron.

Ahmed Asaqasi's body was taken to a hospital in the West Bank city but his identity was not yet revealed.

Palestinian doctors said that the youth was shot several times in his upper body.

Palestinians reported that the 15-year-old was playing with other children when IDF soldiers saw him holding the toy gun and opened fire.