Chanukah in Homesh: Mounted Police Knock Down Woman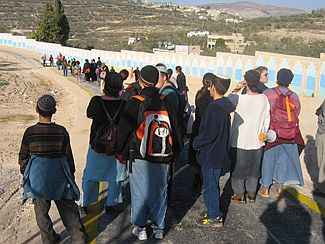 For context, click here.
Excerpts;
Black-uniformed police in riot gear, backed by mounted police, confronted 1,000 supporters of Jewish life in the destroyed community of Homesh Monday night. One horse ridden by a policeman knocked down a woman, who threw sand in the animal's face to prevent it from trampling her.

The crowd, including former residents of the community which was among those destroyed by the government last years, out-maneuvered soldiers and police who tried to prevent them from reaching the site. They lit Chanukah candles and vowed to rebuild their homes.
Click here for Northern Samaria Expellees Return Home For Chanukah, including photos.