For context, click here and here.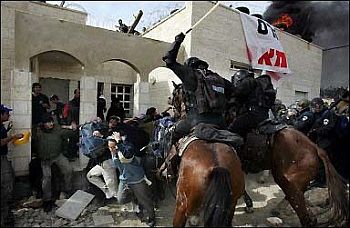 More Amona's to Come??
Northern Samaria Declared "Closed Military Zone"
Full Text;
Northern Samaria, including the community of Shavei Shomron, has been declared a closed military zone due to attempts by the former residents of Chomesh to visit what was their home today.

The junction between Highways 60 and 55 near Kedumim was closed first to Jewish traffic and then to Arab vehicles. Around seventy people have so far reached this area. No skirmishes with police have been reported, although verbal confrontations are going on.
Police Chasing Two Groups Who Reached Chomesh
Full Text;
Two groups of religious high school students and other nationalists bypassed army and police officers Monday morning and reached the site of the destroyed homes of Chomesh. Security officers blockaded the roads to Homesh and Sa-Nur in an effort to prevent the supporters of Jewish life in northern Samaria from lighting candles there in honor of the Chanuka holiday.

Police are chasing after them at this hour. One person was arrested and later released.