Just look at who Israel's cabinet is funding with tax transfers and proposing to hold summit talks with;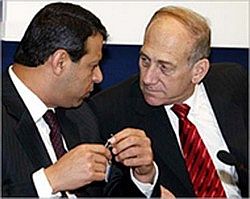 Egypt's Intel Chief Decided Hamas Takeover Served Cairo's Interests (IMRA)
Excerpts;
Egyptian intelligence chief Gen. Omar Suleiman, Masha'al said Dahlan and his allies were working with Al Qaida-aligned groups to undermine Hamas in the Gaza Strip. The source quoted Masha'al as saying that Fatah was allowing Al Qaida to infiltrate the Sinai Peninsula to facilitate attacks on the regime of President Hosni Mubarak.

"Masha'al's bottom line was that Hamas was going to launch an offensive," the source said. "In the end, Suleiman became convinced that this would serve Egyptian interests."

"Hamas got rid of Fatah and Egypt is now allowing the transfer of all the weapons Hamas wants," an Israeli military source said.
To the above, Barak of IRIS adds commentary regarding America's pass given to Abbas, Dahlan and Fatah; the Founding Fathers of terrorism relating to the War on Terror and Israel's massive infusion of $US 400 million to prop up Abbas and Fatah.
Related reports:
Cabinet Okays Release of PA Tax Funds
Sheetrit, Yishai, Support Funding PA
Isn't it just lke Shas to support funding the enemy??
Other War News
IAF Airstrike Kills Islamic Jihad Operative in Gaza City
11 Mortars Land Near Karni Crossing; None Wounded
Rocks Damage Israeli Vehicle North of Ramallah
Hamas Planning Terror Attack, Shin Bet Chief Says, by Ronny Sofer (Ynet)
Two Rockets Fired into Sderot; 3 Lightly Wounded
Related reports:
Bombardment on Sderot Wounds Three and Causes Damages, by Ezra HaLevi (Israel National News)
Fatah Faction, Islamic Jihad Claim Kassam Attack
Heat Wave Envelopes Holy Land, Fires in the North, by Ezra HaLevi (Israel National News)
Excerpt;
"Scores of acres of Galilee forest were burned in what police say may have been nationalist arson by local Arabs. At least one of the fires burned land and crops claimed by Arabs from a Jewish kibbutz."