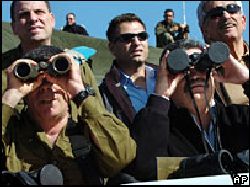 Commentary;
Defense Minister Amir Peretz, for whom it would make no difference whether or not his binoculars are capped when he looks through them, is incapable of leading national defense in a time of war, so he looks for easy prey to bully; the Jews of Yehuda and the Shomron.
But in preparing for a possible, imminent replay of Amona on a larger scale, he may just have bitten off a bit more than his level of incompetency can handle. All the while, the dire predictions from numerous sources keep flowing about renewed warfare in the north as Hezbollah rearms to pre-war strength and Syria prepares.
Check out this commentary from Aaron lerner of IMRA;
Weekly Commentary: Setting Proper War Goals if Syria Attacks
Ready to Pay the Price, by Amir Oren Haaretz 16 February 2007:
"In all the IDF's war games, exercises and simulations, which presuppose thousands of Israeli casualties in a clash with Syria, the aim of the war is defined in identical terms: to arrive at negotiations with Damascus 'from an advantageous position.'"
What in the world does this mean? Find out by continuing to read here.
Peretz's Next Step: Outpost Evacuation, by Attila Somfalvi (Ynet)
Full Text:
Aides to defense minister say 'he plans to go all the way in terms of issue of illegal outposts and in full force, even at the cost of a conflict with Olmert.'

Defense Minister Amir Peretz has made it clear that his next step would be the evacuation of illegal outposts, aides to Peretz told Ynet Thursday evening.

According to the associates, Peretz "plans to go all the way on the issue of illegal outposts and in full force.

"He has been saying that illegal outposts must be evacuated for a long time, but now is the time to implement it. We cannot continue stalling. He is ready to do this even at the cost of a conflict with the prime minister."

The prime minister's aides said that the talks held in recent months with settler representatives have failed, and that "it was impossible to reach any agreement with them on this issue. Therefore, there will be no choice, but to evacuate outposts without an agreement and without understandings."
Related Reports:
Peretz Plans 'Full Force' To Crush Hilltop Communities
Excerpts;
"Sources close to the Defense Minister said this time he is ready to implement his plan, even if it means a confrontation with Prime Minister Ehud Olmert."
Embattled DM Peretz Charging Ahead with Outpost Evacuation
Israeli Minister in Vision Gaffe
Excerpt;
"Mr Peretz looked through the capped binoculars three times, nodding as Gen Ashkenazi explained what was in view."
In closed talks held Wednesday evening, Peretz estimated that following the cabinet reshuffle, the government will become stable for a while.

According to Peretz, "Most of the Knesset factions don't want the government to fall. There are always surprises, but the only thing that can bring down the government at the moment is stagnation in the diplomatic field."

Peretz supports the Saudi initiative and is in favor of strengthening relations with the moderate countries in the Middle East, as well as with moderate elements in the region.

"I already said a long time ago that the Saudi initiative should be taken seriously," the defense minister told his aides. "We must also remember that the agreement signed by Abu Mazen (Palestinian President Mahmoud Abbas) and (Palestinian Prime Minister) Ismail Haniyeh came from Mecca, from the Saudis."

Own Diplomatic Agenda

In preparation for the primaries in the Labor Party, Peretz will attempt to create his own diplomatic agenda. However, he has not given a time frame for starting the process. He has not decided on a date for the Labor to leave the government if the talks are not renewed.

"That will be determined according to the reality at the time and whose fault it is that the progress is at a standstill. We are not standing with a stop watch but we must deal with the diplomatic process," he said.

Peretz also mentioned billionaire Arcadi Gaydamak's political debut into political the world but did not appear to be worried. "Gaydamak is using the poor people. Buji (Isaac) Herzog will help them and provide for them," he declared.

Peretz's drawback is that he still holds the defense portfolio, and the public still considers him unqualified for the job.

During the last few months he seems to have gone through a makeover in his general conduct and the image he is trying to project. He has started to wear suits and ties, and avoids public debates and interviews to the press.

His advisors are trying to organize an official visit for him at the Pentagon to complete the transformation. This visit will probably take place in the next couple of weeks.

Defense ministry officials have said that as groundwork for the trip he is learning all about US-Israel relations and US history. "The defense minister is reading and learning a great deal towards this trip," said an official in the ministry to Ynet. "He definitely understands how badly he needed to change his approach."