Column One: Privatizing the War of Ideas, by Caroline Glick (Jerusalem Post)
"The Olmert government is simply incapable of conceptualizing policies capable of defending Israel."
"Six years after the Palestinians launched their jihad, and five years after the jihadist attacks on the US, the governments of the free world remain deeply hesitant about engaging in a true ideological struggle with jihad."
Commentary;
By the very title of this article, "Privatizing the War of Ideas", Caroline Glick urges us, the citizens of Israel, to act privately in every possible venue, to "force our leaders to defend us publicly and to adopt policies based on reality that see victory rather than surrender as our best option moving forward. "
She states that "Philanthropists in Israel and worldwide should have no difficulty investing a few million dollars for a project that would do nothing more than state the patently obvious: The path of jihad is immoral, inhuman and no fun at all while the path of human freedom is moral, just and can be highly enjoyable."
One of the first steps which any private venture to expose the immorality and inhumanity of Jihad should take, is to maximize the usage of current, available blog resources. Utilize those resources who were ahead of MSM regarding Sharon's stroke, the Gaza Beach Pallywood production and much more.
Utilize blog resources such as Little Green Footballs, IRIS (Information Regarding israel's Security), and a multitude of other blog resources which quickly and expeditiously expose Pallywood and Hezbollywood fraudulent productions even as Ehud Olmert foolishly and incompetently hides his face in needless shame over false, bogus reports of Arab deaths. MB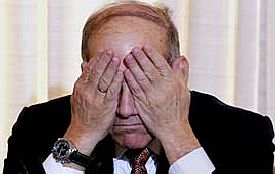 Excerpts;
In the interest of "strengthening" Abbas, Prime Minister Ehud Olmert refuses to take any actions to defend southern Israel from Kassam rocket attacks. Olmert cannot imagine a "peace" policy that doesn't involve Israeli land transfers to terrorists and so is incapable of conceiving of a policy other than the current failed one of embracing the fantasy of Abbas as the key to utopia.

ISRAEL, OF course, has options other than surrendering to either Hamas or Fatah. It could defeat them. A policy aimed at victory would be based first of all on a recognition that today there is no power structure in the PA, including the PA militias, that is not a terrorist organization. It would similarly recognize that there is no such thing as a good terrorist organization. Consequently, a strategy for winning would recognize that Israel must launch a concerted campaign aimed at defeating and dismantling the PA as a whole.

A policy for victory would also start from a recognition that the common thread joining all the Palestinian terror factions together is jihad. In light of the ideological nature of their common war against Israel, a campaign based on military might alone cannot bring about any long-term sociological or political change in Palestinian society. Unless the ideology of jihad is defeated, a new crop of jihadists will rise up to replace the current one.

Since jihadist ideology is what makes the Palestinian war against the Jews intractable and vests it with its central importance to the global jihad, the defeat of this ideology in the marketplace of ideas will go a long way towards defeating the global jihad as a whole. And the ideology of jihad is far from indestructible.

With its call for genocide of Jews and subjugation of all other non-Muslims, and with its demand that Muslims live under a literal interpretation of Shariah law which enslaves women and abolishes the very notion of human freedom – jihad is an inhuman ideology. It is inherently unattractive to people who sanctify life rather than death. So central to a strategy for beating the Palestinian jihad would be an Israeli ideological assault on jihad.

The unattractiveness of the notion of jihad is most apparent to the jihadists themselves. This is why they spend billions of dollars on a never-ending stream of propaganda aimed at brainwashing as many people as possible. The aim of the jihadist mosques, television and radio stations and Internet sites is twofold. First they work to indoctrinate and mobilize supporters. Second they serve to demonize anyone who fights them – be that George W. Bush, Tony Blair, Salman Rushdie, or Israel.

The Olmert government's inability to recognize the actual state of Palestinian society and act accordingly has two major sources. First, the government is incompetent. As with the Palestinians, so with Iran, Syria, and Hizbullah. The Olmert government is simply incapable of conceptualizing policies capable of defending Israel.

Yet, aside from the specific incompetence of the Olmert government, in its inability to contend with the ideological nature of the war being waged against Israel, the Israeli government is little different from Western governments from Washington to Brussels. Six years after the Palestinians launched their jihad, and five years after the jihadist attacks on the US, the governments of the free world remain deeply hesitant about engaging in a true ideological struggle with jihad.

It is not merely that fearing accusations of racism, the leaders of the world's democracies are averse to noting the monstrous nature of an ideology that marginalizes life and embraces death. Terrified of being falsely labeled fascists, Western leaders, held intellectually hostage by the multicultural police, refuse to assert what ought to be obvious: Liberal, free societies, which uphold human freedom and sanctify life, are superior to jihadist societies that do the opposite. Not only must the free world win the war against the global jihad, we deserve to win it, because we are the good guys and our enemies are the bad guys.

If our leaders are incapable of conceiving a policy for victory or of explaining to either themselves or to our enemies why we must win and they must lose, is there any reason to hope that we can survive, let alone emerge victorious in this war?

Tens of thousands of anti-jihadists Israelis – both Jewish and Arab – are completely fluent in Arabic, contemporary culture and the Internet. A private initiative to operate hundreds of Arabic language websites with anti-jihadist, liberal, pro-American and (dare we say) Zionist messages would constitute a serious challenge to jihadist predominance over Palestinian and pan-Arab consciousness.

Philanthropists in Israel and worldwide should have no difficulty investing a few million dollars for a project that would do nothing more than state the patently obvious: The path of jihad is immoral, inhuman and no fun at all while the path of human freedom is moral, just and can be highly enjoyable.

Were Olmert asked whether he agrees that Zionism and the notion of human freedom it embodies are superior to the notion of jihad, no doubt, Abbas's most enthusiastic champion would say yes. This is so not simply because Zionism is objectively better than jihad. It is so because it would be politically foolish for Olmert to say otherwise.

Although the dangers our world presents us with mount by the day, much of the power to surmount those dangers lies in our hands as citizens of Israel and of free societies more generally. By acting privately, we can force our leaders to defend us publicly and to adopt policies based on reality that see victory rather than surrender as our best option moving forward.