Excerpts;

Humility is not presumptive Prime Minister Ehud Olmert's strong suit; nor is winning an election usually conducive to developing such a trait. The circumstances, however, require humility, and not just because the winner arrives as a stand-in for the comatose Ariel Sharon.

The voters have indeed given Olmert a mandate, but there is a gap between the tentative confidence shown in his path and the momentous steps our new leader has promised to take. Given the election results, it will take a mighty effort and all of Olmert's skills not to tear this country, and its economy, apart.
Ramon Says Kadima Will Retain Major Portfolios
Full Text;

Kadima MK Haim Ramon said Thursday that Kadima would do everything possible to make sure that it retained the major portfolios.

In response to Labor's demand for the finance portfolio, Ramon said that if Labor makes "unreasonable demands," it was very possible that Labor wouldn't join the coalition.

"I can't guarantee that the policy of the second largest party will outweigh the policy of the largest party," Ramon told Army Radio.
Labor MK Tamir Insists on Finance Portfolio
Excerpts;

Labor MK Yuli Tamir reiterated Thursday morning her party's insistence on the finance portfolio, going so far as to intimate that if Labor were not given the Treasury, it might choose to remain outside the coalition.

"Olmert knows that if he wants a stable government, he needs us," Tamir stated. "Joining forces with Yisrael Beitenu won't benefit him or the other parties."
Kadima: Labor Won't Get Treasury
Excerpts;

Kadima officials said Thursday morning that Labor would not receive the finance portfolio, but that if Labor joined the coalition led by Kadima, it might be given the defense portfolio, Army Radio reported.

Both parties' demands to control the Treasury presented the coalition talks between Acting Prime Minister Ehud Olmert's victorious Kadima and the second-place Labor Party – that have not even officially begun yet – with their first crisis on Wednesday.

Olmert convened members of his newly formed coalition negotiating team at the Industry, Trade and Labor Ministry to discuss strategy for the coalition talks that will formally begin following President Moshe Katsav's consultations on Sunday with the leaders of the parties set to enter the Knesset.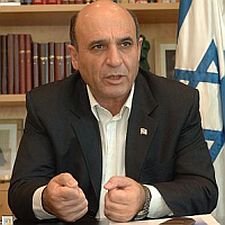 Defense Portfolio is Hot Potato Up for Grabs
Commentary;
Mida Keneged Mida: Shaul Mofaz who begged Likud voters for their votes, on Likud letterhead with one foot out the door, left out in the cold by the Kadima that he rushed after Sharon to join. Poetic Justice.
Retiree Party Soon-to-Be MKs Meeting Thursday
Lieberman Not Ruling Out Entering Olmert-Led Government
Shas Leader Enters Preliminary Coalition Talks
Peretz and Yishai to Discuss Joining Kadima Gov't
Full Text;

Labor party Chairman Amir Peretz and Shas leader Eli Yishai were due to meet on Thursday at Labor's Tel Aviv headquarters.

The two were set to discuss the possibility of joining a Kadima-led coalition, following Tuesday's elections.