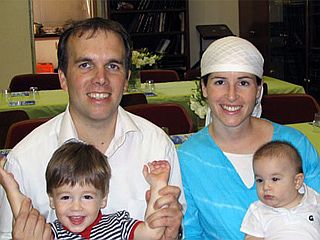 Commentary;
To those who don't know about Olmert's disdain for the very soldiers who fought with the most valour during last summer's Lebanon conflict, Horovitz's piece may seem a very sensitive human interest story centering around Yeshiva Bnei David where the 3 religious soldiers who were fatalities in last summer's Lebanon conflict learned and around the Yeshiva's philosophies; "to bolster religious Zionist soldiers' spirit, commitment and motivation to protect Israel" as well as, "awareness that senseless internal hatreds destroyed our previous efforts at Jewish sovereignty" and telling students during the expulsion from Gush Katif "not to abandon their units…. We stick together through thick and thin."
However, this article fails to recall and fails to inform readers that this very Ro'i Klein z"l who displayed such heroism and presence of mind during two critical occasions during the conflict, one of which cost him his life, was being threatened, with his widow and family, with similar expulsion from their home in Yishuv Eli under Olmert's threatened "convergence" which would have expelled up to 100,000 Jews from their homes throughout Eretz Yisrael had it been carried out. How many other Lebanon conflict casualties and their families faced similar threats?
Horovitz's "Editor's Notes" seems to represent a classic case of selective, agendized journalism wrapped inside an artificial, false facade of sensitivity. MB
Editor's Notes: Unbearable loss, Indomitable Spirit, by David Horovitz (Jerusalem Post)
Excerpts;
In the memorial room of the B'nei David military yeshiva academy at the settlement of Eli, three new photographs have been added since last summer's Second Lebanon War.

There is Ro'i Klein, the 31-year-old father of two, a major in the Golani Brigade whose extraordinary heroism in jumping on a grenade to save his soldiers during the fighting in Bint Jbail on July 26 constitutes one of the most staggering acts of selfless courage in this or any other battle.

Less well known is the story, told by the academy's founder Rabbi Eli Sadan, of further lives saved by Klein during that bitter conflict. Happening to notice a computer in one of the houses where the fighting was raging, Klein pulled out a screwdriver and extracted the hard drive, slipping it in his backpack. Recovered after his death, it turned out to contain maps showing where Hizbullah had booby-trapped the area for Israeli tanks, says Sadan. Immediately made available to the IDF, this information proved invaluable in the subsequent battling.

There is Benji Hillman, the 26-year-old son of English immigrants, a platoon commander in the elite Egoz unit who, though newly married, insisted on returning to his unit to lead his men, and also lost his life at Bint Jbail – barely three weeks after his wedding.

And there is Emanuel Moreno, 35, whose name appears on a picture frame that contains no photograph. Moreno, Sadan explains, was a member of the Sayeret Matkal elite commando unit who carried out numerous missions under cover. So sensitive was some of that work that the IDF won't allow his picture to be displayed even here, at the academy from which he graduated, for fear that some chance visitor may see it and recognize his features, and that "doors that he had opened would be closed," as Sadan succinctly puts it.

Recently the rabbi attended a ceremony at the Sayeret Matkal base at which a new Torah Scroll was being dedicated, in honor of fallen comrades Yoni Netanyahu, who died at Entebbe in 1976, and Moreno, who died in the fighting in Baalbek toward the end of the Second Lebanon War 30 years later. "A modern Yoni – that was the stature of Emanuel," says Sadan softly.

The academy here was established 19 years ago, its initial aim to help Orthodox soldiers maintain their faith in what was then a more overwhelmingly secular military environment. Rabbis were starting to tell students not to serve, says Sadan, but the academy's pioneers sought instead to bolster religious Zionist soldiers' spirit, commitment and motivation to protect Israel. A hundred years ago, when pre-state Israel could have done with their input, Orthodox yeshiva students didn't leave their studies, says Sadan; he was determined to ensure no reversion to that norm.