Ron-Tal Calls on Halutz to Resign
UPDATED HEADLINE: Report: Chief of Staff to Fire Ron-Tal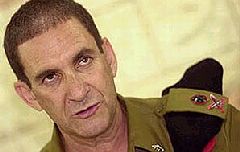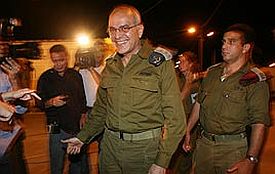 "NU/NRP faction head MK Uri Ariel said Ron-Tal's condemnation of the IDF's participation in the disengagement reflected the opinion of most senior IDF officers."
"'The problem is that they don't stand behind their opinions and say this when the chips are down,' he said, and called on all senior IDF officers to reveal how strongly they had opposed the disengagement."
"Tal also said in an interview with Army Radio that Prime Minister Ehud Olmert's convergence plan would likely endanger Israel's security."
Commentary;
Very interesting that many who now check in about the fiasco in Lebanon draw direct connection between it and the expulsions of Jews from Gush Katif and give little credence to the fiction that Cnvergence is no longer on the agenda.
Full Text;
Former OC Ground Forces commander Maj.-Gen. Yiftah Ron-Tal on Wednesday called on IDF Chief of General Staff Lt.-Gen. Dan Halutz to resign from his post.

Ron-Tal said that those responsible for the fighting in Lebanon this past summer must be held accountable for the war's failure. Responsibility lies with both military and political ranks, he said.

He added that there was a clear connection between the IDF's failure in the recent Lebanon war and its participation in the disengagement from Gaza last summer.

"The IDF, from a readiness standpoint, was well-prepared for this war. That wasn't the problem with this war, the emergency storage units and the training. Our army last June and July was in a sufficient state of fitness to subdue Hizbullah, but the army dedicated most of its time to training for the disengagement, and therefore the training suffered," he said.

"It was not on such a level that it was impossible to fight, but there was a need to remove the rust in the first days of fighting. Did the army have to participate in the disengagement? It wasn't its job to evacuate Jews, which was non-consensual, and it, as the army of the people, was not supposed to do that," Ron-Tal said.

Tal also said in an interview with Army Radio that Prime Minister Ehud Olmert's convergence plan would likely endanger Israel's security.

The IDF condemned Ron-Tal's comments shortly afterwards, saying it was "not appropriate for an officer on paid vacation before his retirement from the IDF to criticize the political echelons of the State of Israel.

"This matter is even worse in light of the fact that Maj.-Gen. Ron-Tal was a member of the general staff and a part of the general processes and decisions, including the disengagement plan," the army said.

Halutz has summoned Ron-Tal to a meeting to clarify the latter's statements.

Meanwhile, however, several MKs responded with support for Ron-Tal's comments.

"The IDF wasted 4.5 million work days to evict 9,000 Jews, and the chief of general staff gave out high marks for it. This is not the way to defeat the Arabs," said MK Arye Eldad (NU/NRP).

Earlier, NU/NRP faction head MK Uri Ariel said Ron-Tal's condemnation of the IDF's participation in the disengagement reflected the opinion of most senior IDF officers.

"The problem is that they don't stand behind their opinions and say this when the chips are down," he said, and called on all senior IDF officers to reveal how strongly they had opposed the disengagement.