Exclusive: Fugitive to Head PA Force 17
Excerpts;

A statement issued by the Prime Minister's Office in 2001 announced the arrest of three members of Force 17 who were allegedly involved in the killing of Binyamin Ze'ev Kahane and his wife Talia in December 2000.

According to the statement, Damra was responsible for arming and instructing the three men, who were identified as Talal Ghassan, 37, a senior Force 17 member in Ramallah, Marzouk Abu Naim, 43, and Na'man Nofel.

The three were planning on carrying out additional attacks on soldiers and civilians, especially on the Ramallah-area bypass roads, on the Allon road and in Jerusalem, the statement said.

Abu Naim led his interrogators to two bombs which the cell had been planning to use.

Israeli security officials also attribute to Damra's men a shooting attack near Neveh Tzuf in November 2000 in which two soldiers and a civilian were killed, a shooting attack at the Tapuah junction in November 2001 in which one civilian was killed, and a shooting attack on Route 443 near Givat Ze'ev in December 2001 in which a civilian was killed.
For more on the Fugitive appointed to head PA force 17, click here.
Kassams Hit Sderot Building, Two People Suffer From Shock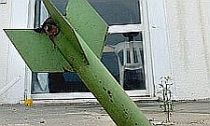 Peretz in Sderot; IDF Fires Artillery Shells
Full Text;

Defense Minister Amir Peretz is meeting with Sderot residents at this hour following Wednesday morning's Kassam rocket attack on the Negev town. At least two houses were hit by the rockets, but there were no injuries.

Two hours after the explosions, the IDF began another retaliation of artillery fire. Sderot Mayor Eli Moyal said he does not expect Minister Peretz to solve the Kassam rocket problem immediately, only a few weeks since he became Defense Minister. "The problem is the government policies which are not aimed toward fighting terror," he said. "Whoever runs away from terror will find it chasing after him."
Kassam Fell Near Peretz's Home
Eyewitness: 'Kassam Was Over My Head'
IDF Special Forces to Step Up North Gaza Activity
IDF Source: We will keep operating in Gaza
Bomb Thrown at IDF Force Near Tulkarm; No Wounded