Startling Dahaf Post Election Poll Regarding The Making of Olmert's Coalition;
Poll puzzle: Why Are 85% Satisfied How They Voted When 51% Not Pleased, Olmert 76% Wrong for Peretz to be DM?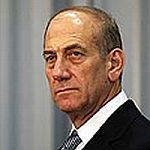 Excerpt;

Gaza evacuees still living in tent encampment meet Colonel (res.) Shaul Arieli, who represents in their eyes everything that caused their eviction; however, both parties agree PM Olmert's convergence plan will be bad for Israel.