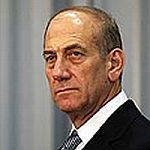 Kadima and Labor: Signed and Sealed
When it happens, an Olmert regime will be but one issue-oriented, like what the Sharon Government evolved into. And their assertion about Bush, US understanding — Totally bogus! MB
Excerpts;

The agreement stipulates, among other things, that the government will move "to shape the permanent borders of the state as a Jewish state with a democratic majority" and promises that "the territory of the Israeli settlement in Judea and Samaria" will be "reduced".

The agreement also outlines the negotiation process on permanent borders to be carried out with the Palestinian Authority, specifying it must be carried out on the basis of the previously agreed-upon road map plan. It also included a threat to the PA, warning that Israel would not allow the issue to be dragged out.

"If the Palestinians do not act in accordance with these conditions in the near term, the government will also take action in the absence of negotiations and an agreement with them, on the basis of a broad national agreement within Israel and a deep understanding with Israel's friends abroad, chief among them the United States and President George W. Bush," it said.
Analysis: Olmert Must Avoid 10 Plagues
Kadima Source: Finance Will Go to Shas
How badly does Olmert want Shas? And Yishai is about as qualified for the Finance Ministry as Peretz is for Defense. And is Avraham Hirshson going to be livid? Watch those Kadima loose cannons start going off if Shas actually gets the Finance Ministry! MB
Full Text;

Prime Minister-designate Ehud Olmert is slated to meet with Shas party Chairman Eli Yishai Friday morning, and a senior official in the Kadima party said that Olmert will offer Yishai a fourth portfolio.

The unnamed source confirmed to Ynet news service that it appeared that Olmert would offer the Finance Ministry to Shas.
Shas to Enter Coalition with Kadima
Excerpts;

Shas had seemed poised Thursday evening to immediately join the Kadima-led coalition. The new delay was caused by disagreement on what Shas chairman Eli Yishai's position would be in a future government.

Shas had obtained a list of demands that included a reversal of cuts in child benefits, the Industry, Trade and Labor and Communications portfolios and control of religious services.

Eli Yishai reached a tentative agreement with Ovad Yehezkiel, a member of Interim Prime Minister Ehud Olmert's negotiating team which was presented to Rabbi Ovadia Yosef early Thursday evening.

Yishai was slated to meet with Olmert late Thursday evening to finalize the agreement.

A Shas spokesman said that Kadima agreed to stop future cuts of NIS 600 million to child benefits through 2009, and reverse about NIS 500m. in cuts already made.

United Torah Judaism, which is still far from a coalition agreement, attacked Shas for caving in on civil marriages.

"Eli Yishai [Shas Chairman] will be a pariah among both Lithuanian and Hassidic communities for destroying the status quo," said a source close to Rabbi Yosef Shalom Elyashiv, the preeminent spiritual leader of Lithuanian haredi Jewry represented in the Knesset by Degel Hatorah, one of two factions that make up UTJ.
Shas, Kadima Disagree on Yishai's Portfolio
Full Text;

Shas and United Torah Judaism will not sign a coalition agreement with Kadima until next week, Kadima officials said.

The delay is caused by disagreement on what Shas chairman Eli Yishai's position would be in a future government.

While Shas wants him to be Minister of Transportation, Industry and Employment as well as the managerial appointee for the Israeli Lands portfolio, Kadima said that they would give Yishai either the Transportation or Construction portfolios, but not managerial responsibility for the respective ministries, according to Army Radio.
Lieberman Can Serve as Minister Despite Charges
Lieberman, What happened to your mantra about not sitting in a coalition with Labor? MB
Full Text;

Sources close to Attorney-General Menny Mazuz said Friday morning that if Israel Beitenu joins the government, party head Avigdor Lieberman will be able to serve as a minister despite criminal charges against him, Army Radio reported.

Lieberman and Interim Prime Minister Ehud Olmert met last night and are expected to reach an agreement soon.