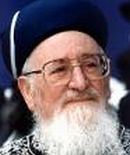 Rabbi Eliyahu Releases a Statement of Warning & Instruction
Excerpts;

Former Chief Rabbi Mordechai Eliyahu told a conference of rabbis in Jerusalem's Binyanei HaUma Convention Center that it is forbidden to enter into a coalition government that advocates additional surrender of land to the Hamas-led Palestinian Authority (PA).

The forum was an urgent meeting of rabbinical and other leaders, addressing concerns of the new incoming Kadima-led government supporting additional expulsions of Jews from their homes in Judea and Samaria.
Bostoner Rebbe Calls to Hold Off Entering into Coalition Talks
Excerpts;

The Bostoner Rebbe, Grand Rabbi Levi Yitzchak Horowitz on Thursday morning called on hareidi-religious MKs to hold off entering into coalition negotiations until such time as the Council of Torah Sages convenes to discuss the pertinent issues. The Rebbe explained that prior to the council discussing the issues that must be addressed, entering into negotiations could result in past mistakes being repeated while efforts are underway to establish a new government.