Security Forces Gear Up to Clear Amona
Army Girds for Violence in Amona Outpost Face-Off
Excerpts;
"The Israel Defense Forces and police began deploying troops and officers around the illegal West Bank settlement of Amona on Tuesday night, ahead of the planned evacuation on Wednesday."
"Some 1,500 police officers set out for the outpost from a training base at around 11 P.M. Another 6,000 police officers and soldiers are expected to enter the outpost early Wednesday morning to evacuate settlers from the nine permanent structures and demolish the buildings."
"Military sources told Haaretz that the evacuation of Amona is expected to cost over NIS 5 million."
Expulsion opponents in Amona have been independently confirmed at between 4,500 and 6,000 people as of 2 PM. MB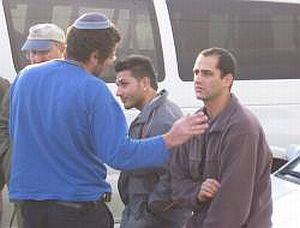 Undercover Cops [wearing wires?] Confronted by Amona Resident.
Undercover Cops Outed by Activists in Amona and Refused Entry
Excerpt;
"Moshe Ayal, an Amona resident, told Arutz-7: 'Undercover cops that arrived here in Amona yesterday afternoon were identified by the youth who have come here to volunteer and are standing guard at the front entrance to the community. The two consistently refused to identify themselves and, in the end, admitted that they were police. They were refused entry via their vehicle, but stayed for a long while opposite the blocked entrance. Eventually they gave in to the residents demands and went away.'"
Yesha Council Sec.-Gen.: Olmert's Campaign Strategy is 'Hit the Settlers, Get 40 Mandates'
Full Text;
"Avner Shimoni, the former head of the Gush Katif Municipality and currently the Yesha Council's Secretary-General, commented Tuesday on the council's late-night meeting with Acting Prime Minister Ehud Olmert Monday."
"'It seems that Olmert's campaign slogan is 'hit the settlers, receive 40 Knesset seats,' Shimoni said".
"He said that Olmert refused any compromise solution or delay to the destruction of the nine permanent homes slated for destruction in the Binyamin region community of Amona."
Rabbi Yisrael Ariel Moves to Amona, Declares "Real" Struggle
Excerpt;
"Rabbi Yisrael Ariel, founder of the Temple Institute and a senior member of the project to reestablish the Sanhedrin, moved to the threatened community of Amona Monday."
Yesha Council: No Compromise, But Not Because We Don't Want One
IDF Sets up Checkpoint on the Way to Amona in Bid to Stem Flow of Activists
Full Text;
"The IDF has set up a checkpoint at the T-Junction located at the turn-off toward Beit El, where the Givat Assaf outpost is located."
"Anti-expulsion protestors continue to stream into Amona, located about a ten-minute walk from Ofra, and the only vehicles being stopped at the T-Junction so far are buses belonging to the Binyamin region municipality."
"Should private vehicles be stopped at the junction, Ofra is just over 3 miles away and can easily be reached by foot. The road to Amona has been blocked by activists with large rocks and cinder blocks in order to delay the arrival of IDF heavy equipment needed to destroy the stone and concrete homes slated for demolition."
Demonstration Against Amona Expulsion at Ashkelon Junction
Prayers Taking Place at Western Wall Against Amona Expulsion