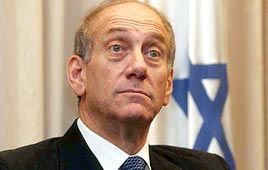 For previous reports posted to this blog, click here.
Channel 2: No Individual Conclusions in Winograd Interim Report, by Aviram Zino (Ynet)
Full Text;
"Prime minister and defense minister gain four months until Winograd publishes final report."

The Winograd interim report about the Israeli military and government's performance during the war in Lebanon , scheduled to be released at the end of March, will not include conclusions about individuals involved but only systemic conclusions, Channel 2 reported Thursday evening.

This gives Prime Minister Ehud Olmert and Defense Minister Amir Peretz an extra four months before they have to face the criticism, during which Peretz is planning to run for leadership of the Labor Party.

The interim report will not deal with performance during the war, but the demeanor during the period until the war brok out, starting at the pullout from Lebanon in 2000.
Related report:
Report: Winograd Report Won't Discuss Individuals (Jerusalem Post)
The final report will include harsh criticism on how the war was run, and personal conclusions will be drawn about Olmert, Peretz and Northern Command chief at the time, Major-General Udi Adam. This report is scheduled to be published in July.

The performance of the Home Front Command will also be judged severely, according to the Channel 2 report.

The Home Front is also undergoing scrutiny by State Comptroller Micha Lindenstrauss.

At a meeting of the Knesset's State Control Committee about the interim report, Lindnstrauss presented a list of interviews his office had held. The list did not include the name of Prime Minister Ehud Olmert.

"Unfortunately the prime minister had requested that we send him our questions in writing. Two months later we received responses to several of the questions. But until today we have not received the answers we were looking for," Lindenstrauss told the committee.

The prime minister's remarks whereby the war had been planned last March drew condemnation by Knesset members in the opposition. MK Effie Eitam from the National Religious Party said: "It appears that our prime minister and Nassrallah are coordinating their versions.

"Nasrallah said that Israel started the war, and now, in his attempt to avoid responsibility for the war, Olmert is trying to rewrite history," he added.
Additional related report:
Olmert is Rewriting History, says MK Eitam, by Amnon Meranda (IMRA, Ynet)
"MKs criticize PM's statement that second Lebanon war was planned months in advance, a claim Nasrallah made repeatedly during war. 'If he isn't lying – it's a thousand times worse,' says MK Eldad."
"If he approved this plan without making sure that the Home Front was ready and that the IDF was capable of carrying it out – he should be tried for criminal negligence," said MK Eldad."
Full Text;
"It seems that the prime minister and Nasrallah are getting their stories straight," an outraged MK Effie Eitam told Ynet Thursday on Olmert's statement that the second Lebanon war was planned beforehand.

War Plans

All throughout the war and afterwards, Hizbullah's leader Hassan Nasrallah defended himself from public criticism by claiming that Israel had already been planning the war and that it "jumped at the chance" to strike.

According to Haaretz, Prime Minister Ehud Olmert told the Winograd Commission that a military operation in case of a kidnapping incident along the Lebanese border was planned as early as March, 2006, four months prior to war.

Several MKs criticized Olmert's statement, which they said backs up Nasrallah's repeated claims, and could jeopardize Israel's credibility.

"Assuming that Olmert isn't lying, this statement makes things a thousand times worse. If he approved this plan without making sure that the Home Front was ready and that the IDF was capable of carrying it out – he should be tried for criminal negligence," said MK Arieh Eldad (National Union-National Religious Party).

MK Effie Eitam said, "In an attempt to shake off responsibility for the poor managing of the war, the prime minister is also trying to rewrite history.

We remember the time before the war. we heard of the cuts in the defense budget, we heard that there were no more existential threats to Israel.

"Saying that the IDF was prepared for a war in the north and that the prime minister even planned to start a war in the north is untrue. This war was a serious managerial failure for the military's senior echelon, who already took responsibility."

MK Yuval Steinitz (Likud) said, "A country preparing for a war certainly would not be cutting defense budgets, significantly minimizing field-training and reserve recruits. Olmert's testimony that the war was planned was meant only to stop the many attacks and criticism against him and has no real basis."

MK Gideon Sa'ar, chairman of the Likud faction told Ynet, "As usual, Olmert is trying to put responsibility on someone else, and this time, on the IDF.

The prime minister bears the highest responsibility for the war's failures. Any attempts to escape responsibility are doomed to failure."